Dispatching Period 15-20days
The sales volume is applied 100% in the chart on Hanteo, Gaon, and Music Bank K.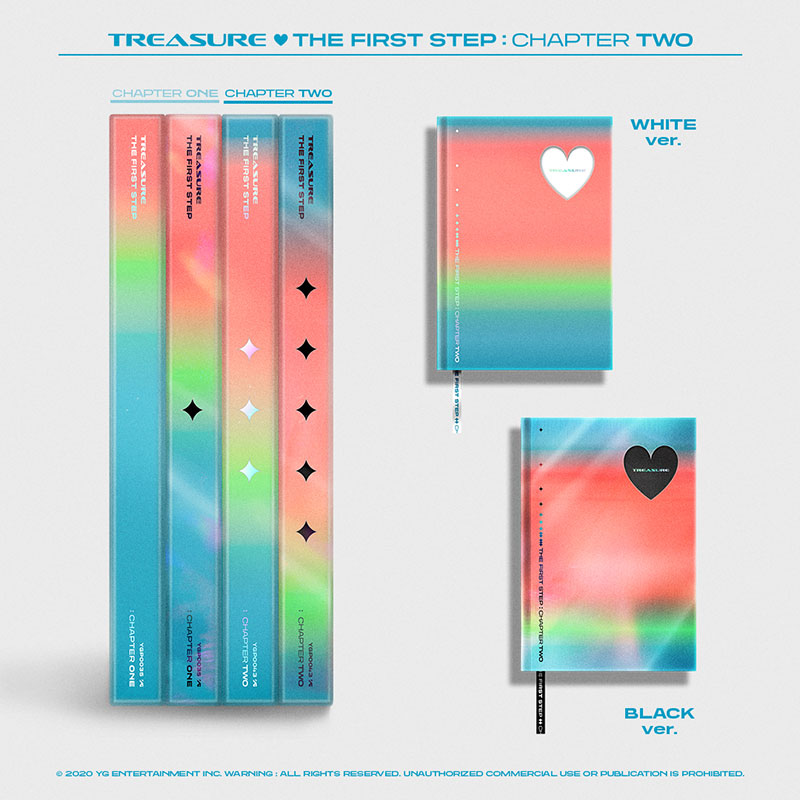 ※Poster sold out 
TREASURE 2nd SINGLE ALBUM
[THE FIRST STEP : CHAPTER TWO]
While YG's rookie boy group Treasure has set off a successful debut with their first single [THE FIRST STEP: CHAPTER ONE], their next move is also unusual.
In the first chapter, if the first moment of love was expressed through the title song 'BOY', this time it was upgraded even more. The second single [THE FIRST STEP: CHAPTER TWO] presents a thrilling feeling with a visual that doubles the refreshing feeling along with the intense boy's passion and innocence.
Addictive music, splendid performances, and various special moves of the 12 members that catch the attention of global fans. It boasts a high degree of perfection as it has all three beats.
TREASURE's 'THE FIRST STEP' series to shake the world.
The second journey following CHAPTER ONE, CHAPTER TWO, once again attracts everyone's attention.
TREASURE 2nd Single album [THE FIRST STEP : CHAPTER TWO] is WHITE ver. and BLACK ver. with different component images. It will be released in a total of two types and will be available for pre-order from September 7th, and will be available on September 22nd at YG Select and other online/offline music stores nationwide.
<Song Introduction>
1. I love you (I LOVE YOU) From the
name of the song, it is straightforward. As much as he fell in love, he expressed the feelings of a boy who imitates even the smallest details of the other person without filtration. It is a dynamic dance pop song with unexpected twists and turns, and you can feel the rush of emotions as if riding a roller coaster. It features an exploding brass line along with the 808 bass. In addition, the phrase 'I love you' that sticks in my ears is repeated, adding to the addiction.
Lyrics by R.Tee, CHOI HYUN SUK, YOSHI, HARUTO
Composed by R.Tee
Arranged by R.Tee, YENA
2. BLT (BLING LIKE THIS) The
genre spectrum was broadened by adding a bit of retro to the future house. It contains the content of going back to the shining moment like the lyrics of 'Bling Like This' in the frozen time in my heart. It is a metaphorical interpretation of the desire to regain time and memories along the path created by the Milky Way and starlight that brightly illuminate the darkness.
Lyrics by KIM DONG JOON, CHOI HYUN SUK, YOSHI, HARUTO, TRNC
Composed by Q, TRNC
Arranged by Q, TRNC
SIZE: 217*157*16

TREASURE 2nd Single album [THE FIRST STEP : CHAPTER TWO] is WHITE ver. and BLACK ver. with different component images. It will be released in 2 types.
Composition: CD+Hardcover Photobook (150p) + Random Photo Card 2 of 24 + Random Selfie Photo Card 1 of 12 + Random Hologram Postcard 1 of 12 + Optical Bookmark + Emblem Sticker 
---